Normand Henry Baker

( 1908 - 1955 )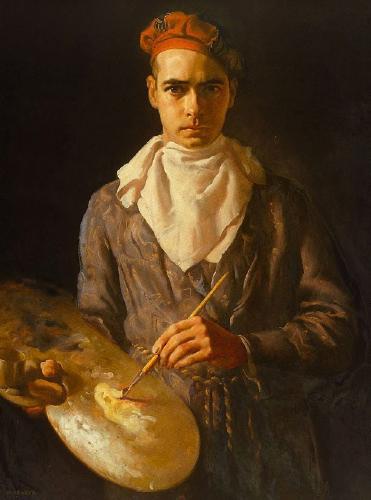 Born July 9, 1908, Summer Hill, Sydney, N.S.W. Died May 24 1955.
Eldest son of William Henry and Millicent Pearl Baker, brother to Alan D. Baker.
Commercial Artist, Winner of the Archibald Prize for portraiture in 1937, aged 29, the youngest winner of this award to date.
Educated Canterbury High School, Art training by J.S.Watkins.
Awarded Artist Trust Scholarship in 1926, Elected associate of the Royal Art Society of N.S.W. 1932, Fellow 1938.
Pencil drawing selected for inclusion in album of Australian Art presented to King George V1 when Duke of York in 1927, Oil Painting ,"Morning in the Markets " purchased by Art Gallery of N.S.W. in 1932. Pencil portrait, "Alan", in Art Gallery of N.S.W. Self portrait (oil) 1937 Archibald Prize winner, acquired in 1956 by Art Gallery of N.S.W.
Represented in the State Library of N.S.W. "The Reading Room" (oil)
Normand was elder brother to Artist Alan D. Baker. He married in 1938 and had 2 children.


---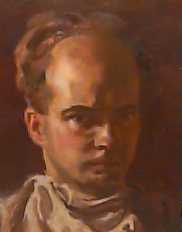 Self Portrait Normand H Baker
Normand Baker is a phenomenon in the history of Australian Art. A man of great talent, he won the Archibald prize in 1937, at the age of 29, the youngest artist to have been awarded the coveted prize up to that time. Yet forty years later his work is virtually unknown, even to the many art historians, despite a lifetime dedicated to painting.
The explanation for this paradoxical anonymity lies in the character of the man himself. Here was one of those rare artists for whom the acclaim of public acceptance was not only unnecessary , but actually disturbing. For him the visual world of his own contriving was more than the one inhabited by patrons and critics. The creation of beautiful images was the end in itself and not the means. His own standards were his criteria, not the transient and often spurious arbitration of the experts.
Normand Baker received his early training at the J.S. Watkins School in Sydney from which he emerged as an academic artist of great skill. His early work shows enormous capacity for handling paint with masterly control and a fine quality of draftmanship. One imagines that he may at this period have seen himself as a professional portrait painter, but probably with personal diffidence that made communication with his subjects a difficult problem for him. Significantly, almost all the portraits existing are self portraits with the exception of a few small studies of his own children. An exception was a portrait exhibited with the Royal Art Society, in 1932 entitled "Bruce".
It is however , judged from the reproduction in the Sydney Mail, a somewhat stiff academic painting, lacking both the insight and the painterly skill of many of the self portraits.
Normand Baker's real genius seems to have been best inspired by such environments as the hurly burly of Paddy's markets. Innumerable drawings , sketches and paintings examine the daily life of the people in the markets, often rendered in turbulent rowdy crowd compositions, full of movement and life. Many are painted in very low key Rembrantesque tone, but pulsating with accents of vibrant colour. One sometimes sees suggestions of a Frank Brangwyn influence, but to suggest that his work is derivative would be wrong- Normand Baker owes nothing specific to other artists. His work is uniquely his own and is the product of a fertile imaginative mind, and perhaps a somewhat troubled one. Certainly his self portraits show a man who faces life it seems with some apprehension.
Another favourite topic was the circus, and again his sketch books are filled with the raw material for many excursions into the world of acrobats, clowns , dwarfs and prancing horses. In all these compositional works one senses his love of people- but people at a distance. They are drawn with compassion and understanding, and a touch of humour, but they remain a little remote from the viewer as though he were observing them from the safety of a dark corner where he could remain unnoticed.
Baker's sketch book studies have been translated into compositions for etchings, a medium in which his meticulous craftsmanship is evident. He produced many plates, and these were sometimes taken through as many as 9 states, each showing carefully considered revisions of the original subject- changes in the tonal pattern, the introduction of a new figure, or deletion of irrelevant embellishment leading to a final series of superb prints.
Normand Baker died at 47 and left a legacy of a lifetime dedicated to art. Only a handful of his paintings had ever been framed and most were still on homemade stretchers contrived from incongruous scrap material. Yet the canvasses have all been carefully prepared and his pigments are of a quality which has made restoration generally unnecessary. Etchings and drawings too have been preserved in mint condition, one imagines carefully wrapped in tissue and placed in boxes soon after completion, awaiting discovery by some future enthusiast. It is almost as though he had consciously avoided the harsh light of contemporaneous exposure, knowing that a post humus revelation of his great talents could no longer hurt his sensitive pride.