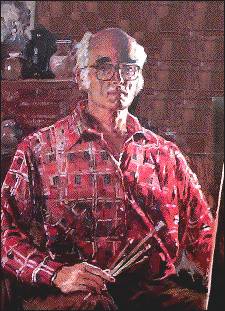 (1914 -1987)
He was the third child of Pearl and Henry Baker of Ashfield, Sydney. The family recognised that Alan showed the same talents as his brother Normand and, at 13 years of age, during his days at Canterbury Boys High, he enrolled to study drawing at J.S. Watkins Art School. He left Canterbury High two years later to become a full time art student.
J.S. Watkins school was a fertile ground in which to study and to nurture young talent because of the competitive stimulus of senior students such as Henry Hanke, Normand Baker (his brother ) and William Pidgen who were all Archibald Prize winners.
Great emphasis was placed on tonal drawing in pencil charcoal , pen and washes and after about 4 years Alan was allowed to paint in oil colour. He entered a self portrait in the Archibald at 18 years and it was accepted.
Alan became an instructor at the J.S.Watkins school until he went to New Guinea.
Commercial Art
As most artists could not make a living from their paintings they did commercial art. Alan had a thorough grounding in drawing and was able to have a successful career in that field. He did posters and 24 sheeters for Tooths Brewery.
One important commission from Tooths was to decorate with paintings, the dining rooms of the prestigious hotels such as The Greengate Hotel at Killara, Mansions Hotel at Kings Cross, The Great Southern Hotel at Newcastle and The Cecil at Cronulla.
An exhibition of Australian Poster Art at the Powerhouse Museum featured many of Alans works and also two books on Pub Art have been published. He used himself and members of his family to pose for the advertisements.

Alan served with A.I.F. in New Guinea from 1943 - 45
They had no positions as a war artist so Alan served with the small craft (boats) division, he painted portraits of many of the natives and officers.

Alan married Marjorie in 1946 and settled at Moorebank, on the Georges River, N.S.W. Tragically, in 1961, two of their three sons were drowned in a boating accident. Soon afterwards, the family moved to The Oaks, N.S.W.

The Oaks Years (1961 - 1987)
Alan built a house , studio , gallery and framing workshop on 6 acres, which had been a eucalyptus forest belonging to the original Faulding estate. He cleared about 3 acres for gardens , fruit trees and ponds.The garden was a rich source for flowers he used in his paintings.

In 1970 Alan commenced tutoring an informal art group in Camden. He gave generously of his extensive knowledge, and encouraged his pupils to have exhibitions. Many have become professional artists, including his son Gary.

He had a great love of the Australian countryside and enjoyed travelling in his caravan with his family and dog, visiting the Flinders Ranges - South Australia, Central Australia, Queensland - especially Longreach, and Northern and Western New South Wales. On the south coast of New South Wales, at Gerroa, he had a holiday house. This was the source for many of his landscapes and seascapes.

His works are in the New South Wales Art Gallery, the National Gallery - Canberra, Queensland Institute of Technology, the Hinton collection at Armidale, and many private and public collections.

He was a Fellow and Vice President of the Royal Art Society of New South Wales and on its Council for many years. He was also a trustee of the Marshall Bequest at the New South Wales Art Gallery. Alan was a member of Camden Rotary Club for eighteen years.

Classical music was one of his passions and together with his painting, he went into a state of abstraction as he worked.... ART WAS HIS LIFE.


The Alan Baker Gallery Camden NSW
Alan Baker Art Gallery is situated in the historic Victorian Gentleman's Townhouse, Macaria, and showcases the work of local Australian artist, Alan Baker.
This collection of Baker's art provides a colourful portrayal of the artist's life in 20th Century Australia. Through tragedy and joy, it tells a story of Australian life, culture and artistic journey.
Through our collection and program of public art workshops, the Alan Baker Art Gallery has established itself as a vibrant part of Camden's cultural precinct. Alan Baker Art Gallery is a space which connects local artists in the Macarthur region, fosters emerging artists and promotes art in Camden.
11am - 4pm
Thursday, Friday, Saturday & Sunday
Address: Alan Baker Art Gallery, Macaria, 37 John St, Camden NSW 2570
Phone: 02 4645 5191
Email: alanbakerartgallery@camden.nsw.gov.au
Current Exhibition at The Alan Baker Gallery, Camden N.S.W.

Alan Baker Art Gallery's newest exhibition, Alan's Art Deco, explores the way Australia's Art Deco movement manifested in the work of 20th-century artist, Alan D. Baker.

As the Australian economy was recovering and prospering, Baker developed a successful commercial art career with Tooth & Co, producing a series of iconic advertising posters. This exhibition frames Baker's commercial art in the context of its era.

Alan's Art Deco will run from 19 October 2023 to 28 April 2024 at Alan Baker Art Gallery. Visit the exhibition to experience Baker's advertising oil paintings, scratchboard works, and artworks influenced by Art Deco; items from the 1930s to help set the scene, and historical photographs that showcase Sydney's Art Deco movement in the 1920s to the 1950s.
---
---